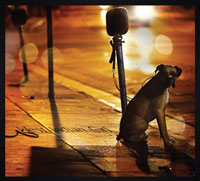 The sophomore release from West Indian Girl puts a modern twist to new wave without provoking the inevitable comparisions to the artists that have saturated the industry today as the 'new wave' of modern rock (Killers, Interpol).
This album is a masterpiece; each song blends seamlessly into the next – from the psychedelic meanderings of "All My Friends" to the techno laced "Lost Children" to the infectious pop finale of "Get Up". From beginning to end, 4th and Wall does not disappoint; each song encapsulates the lush scenery of life in chapters texturized by these Los Angeles storytellers.
It is quite hard to believe that West Indian Girl is not a mainstay in the popular culture. Perhaps it is the same genre defining molds we place music into that eventually prohibits us from being exposed to vibrant and mesmerizing artists such as this. West Indian Girl is far from the superficial, trite, mass marketed audio displays that have crept into the current musical vernacular. Intrigued by their broad use of keyboards and harmonies, several listens later caused only one question to be posed – how long will we have to wait for the next album?
By Jennifer Weissert