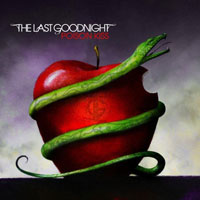 The first single off of Poison Kiss, the radio friendly "Pictures of You", leads you to believe that The Last Goodnight is just another band trying too hard not to sound like Maroon 5 and Blue October and failing miserably. The single is nothing extraordinary, perhaps picked strictly for its ability to encapsulate the yearnings of love and wrap it up neatly into an adult contemporary package for consumption.
Most of the album takes the comfortable route — the road well traveled coupled with the expected hooks and trite lyrics ('the butterfly is beautiful but soon will die') with which we have forged a stunning love/hate relationship.
Yet Poison Kiss is not all fluff, surprising us with hidden soulful gems of longing such as "If I Talk To God", "One Trust" and "Return To Me" somehow making the journey down the well beaten path worth it where 'my voice is silence to your ears'.
Perhaps this unremarkable debut by the Connecticut based outfit is a test of the waters per se, finding out what fits, what doesn't work and what will make history. We can only hope that these six gentlemen will not become a part of the past as an almost one hit wonder.
By  Jennifer Weissert