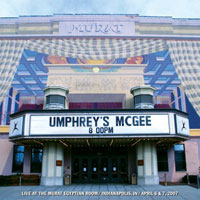 As someone who generally despises jam bands, I was surprised to find that Umphrey's McGee's Live at the Murat is actually enjoyable. McGee keeps the endlessly overwrought improvisations that plague their peers under control and focuses instead on clever composition.
The first four tracks comprise a single song, "In the Kitchen", which begins acoustically, descends inevitably into a jam, transitions seamlessly into an electric improvisation and goes back into an electric version of the original song.
The band hits all of the genre styles you would expect from a jam band: folk, southern rock, reggae, etc. and occasionally even channel a touch of Primus-esque dissonance. But the sheer enthusiasm of the band tosses aside any worry of cliché and carries you through the few improve sections that last a little too long.
What's even more impressive is the fantastic recording quality for a live recording. Everything comes through crisp and clear. There's really no downside here. If you have a friend that hates jam music, this is a great chance to make a convert out of him.
By  David Feltman