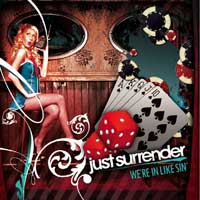 Just Surrender is back with their sophomore full-length album, We're In Like Sin. The quartet's latest release by Broken English Records consists of eleven new tracks ranging from melancholy tunes to songs that'll get you shouting their lyrics at the top of your lungs.
Besides having an amusing title, "If I Wanted to Cuddle I'd Buy a Teddy Bear" is a catchy tune that one can easily imagine being picked up by the nation's leading alternative stations for frequent rotation. While We're In Like Sin also features less than stellar tracks such as "So Close/So Alive" the album as a whole is a solid release with some great songs.
One of the album's best compositions is "New Declaration," which offers simple yet poignant lyrics and an instrumentally rich track with great flow that is likely to get even the most blasé person bobbing their head in excitement.
The album's title track "We're In Like Sin" is the most musically interesting song off the album. Its structure is less predictable than other Just Surrender tracks due to its upbeat tempo and seemingly ska-punk inspired sound, but the track is pulled together in a way that nicely features the entire band's musicality and creativity.
All in all We're In Like Sin is a good album, and while it doesn't highlight one signature sound for Just Surrender the band pulls off each track without sounding forced or overtly contrived.
By Esperanza Juarez