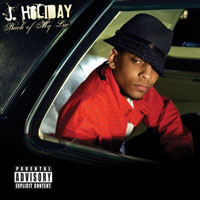 It's obvious that Capital knew what they were doing when they discovered J. Holiday, who oozes with sexy smooth vocals and a strong catchy urban R&B flavor that can compete with the best of the best. His vocal prowess is reminiscent of Usher meets D'Angelo with an R. Kelly feel to it.
When I first put his CD, Back of My Lac in the player, I was mortified by the first few songs and how they seemed to demean women while praising drug use. With songs like "Laa Laa", which sounds like a "how-to" for smoking weed, sexing up the sexies, and all the "N" bombs, made me want to chalk him up with all the other gangster wanna-bes. I don't understand why this is so popular in the R & B industry. Holiday's talents, though prevalent, are being wasted on this weed and thug dribble.
However, once you get past the first few tracks, the album gets increasingly better. Tracks like "Be Here", "Suffocate", "Fatal", and "Fallin'" completely blew my mind and won me over. These extremely radio friendly tracks are all potential hit makers. I think J. Holiday should just worry about making good music than trying to prove that while he's a sensitive guy, he's also a hustler. Still, over all, J. Holiday's album has platinum appeal and if I just tune out the lyrical content and just focus on the music and Holiday's yummy vocals, I could totally forgive the demeaning and jail worthy content.
By  Andrea Emmes