A Solo Harvest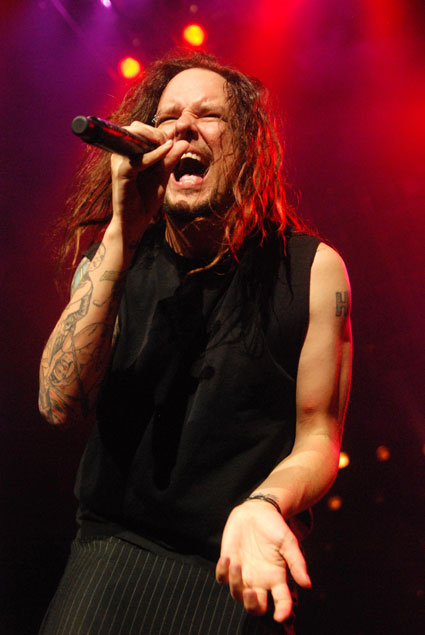 By Martin Halo
He stands as arguably one of the most explosive front men in the history of overdriven distortion and hard rock for that matter. Jonathan Davis is volatile, reckless, un-predictable, and, for the last ten years, stone cold sober. With a few months off from extensive roadwork on the Korn wagon and following the most successful Family Values Tour yet, Davis has embarked on a stint of intimate acoustic solo dates, which will highlight his work from the Queen of the Dammed Soundtrack; amongst other personally selected compositions.
In a round table press conference to discuss the project, Davis fielded questions from a pool of reporters and journalists after a Halloween scare fest of tricker-treats with his young children the night prior.
"The reason why I wanted to do this is because this is something I have wanted to do for a long time," says Davis is a scratchy tone and fighting off a slight cold. He continues, "I never got a chance to ever play The Queen of the Damned Soundtrack, which was a bunch of material I wrote for the movie. I wanted to do this for a while and there was just no time for it because I was touring non-stop with Korn. At the end of this run of dates we have a two month break so I thought it would be a perfect time to do it."
"Munk was asking of he could get tickets to the show," says Davis with laughter. "Of course you can get tickets man!"
"But really on top of that I just wanted to get back out on the road. I just love to play, just for the sake of it. Being onstage feels amazing. I can describe it as just getting into the zone and I'm just flowing through the music. I call it a stage-gasm, where I just jump out of my body and look back at myself. It is a trip. It freaks me out because the feeling is so intense. The crowd is going off, the band is going off, and we all peak at the same time. So because of that I put together a really insane band."
The ensemble consists of Miles Mosely (bass), Zac Baird (piano), Shenkar (violin), Michael Jochum (drums), and Shane Gibson (guitar). "We are like magicians of music," explains Davis.
"I wanted to do something special for the fans," he offers, "something they have never seen before. We are working in some Korn material in a different light and we are doing a couple new covers."
The members of the round table begin to weigh in as they slowly unravel the tale; one by one they fire questions from coast to coast. "What covers do you have prepared?" asks revered freelance journalist David Schultz.
"We are doing 'Love on the Rocks' by Neil Diamond which I did for the Wonderland Soundtrack," Davis answers. "In addition we are doing 'Blue Monday' from New Order, which is crazy because we really slowed it down in a way that is completely different from the original. I might throw in another one as rehearsals go on," he offers.
"I feel the Korn Unplugged Tour just really opened my eyes to different way of thinking musically. We are planning to make the shows very intimate. It is just going to be us in suits and candles onstage. The whole thing is going to be minimal with just the band and me. I have never played with a stand up bass player before. This guy Miles is just amazing. He is a jazz player who does all of this crazy stuff with pedals. I didn't want to think of it as just guitar and bongos. There are a lot of different things going on. I got keyboards mixed with piano and I've got Shenkar playing with me as well. He is going to be showcasing this crazy double violin. It has a Frank Zappa attitude about it, and it is going to be something different from what people have seen before."
To accompany this short run of dates, Davis will release a DVD/CD package, which will etch the project in stone. "The night before the first show," which will be November 11, "I am going to my best friend Richard Gibbs' house. He was the guy who did the Queen of the Dammed with me and he helped with musical direction for this," Davis explains. "We are going to his house and we are going to record a small show in front of friends, family, and some press in his studio. The film is going to document everything from when we were trying out band members, to rehearsals, all leading up to the first show. We are going to release it in Limited Edition."
With the solo gigs bearing down on Davis a barrage of questions inquiring about the health of Korn and the future of the band ring out. "You know anytime you do a solo thing it freaks people out," Davis responds. "We are tighter than ever, they are my spine. The heart of the band was Fiedly, Munky, and I. What really hurt us more emotionally was loosing David and Head. I miss those guys. I'm really happy David is taking time off and spending time with the kids. Hopefully he will rekindle that love for playing drums. But for right now, as a band, Korn is stronger than ever. We write while we are out on the road so we are excited to make another record. We have been going for 14 years without really a break. We would get done with a tour, take a week or two off, and then go right back into the studio to start working again. These two months off gave me a chance to go crazy."
His musical craziness and adventurism is far different from the Jonathan Davis we were first introduced to, mostly notably being an artist now operating with clarity. "Jonathan, it is different for you know that you are not under the influence?" a reporter flat out asks.
Davis responds with, "that is a good question," and begins to divulge. "There was a time when I was with Korn that I barely remember. I was a complete out of control alcoholic and drug addict. I was going around trying to be a rock star, thinking of what a rock star should be. Just the stereotypical Jim Morrison. Lately going back to these places it is pretty much like the first time for me again. It has been fun and scary at the same time."
"I turned the corner to recovery after I came home and my three year old son saw me all fucked up," he shares. "I was fucked up out of my mind and he gave me a look that I will never forget. It made me feel like the biggest piece of shit. My grandfather passed away around the same time and I think the trauma of those two events made me realize that I needed to be here for my kid. I needed to be a positive role model for him. You have to understand I was on my way to be a statistic. I was going to die. I was going to overdose."
"I was time for me to be a dad. It was August 22, I had my last drink; everybody in the band was there laughing at me because I was saying it was going to be my last drink and smoke. They were all just like, 'whatever.' I haven't touched anything since. I stopped cold turkey."
A silence is deafening over the phone. "My last drink was a Jack Daniels and Coke. That was my favorite drink and I smoked a Marlboro Light and that was it. I t has been almost ten years bro," David concludes.
Dates for DAVIS' upcoming solo tour are as follows:
11/9 Hartford, CT Webster Theatre
11/10 Verona, NY Turning Stone Casino
11/12 Boston, MA Berklee Performance Center
11/13 New York, NY Nokia Theatre Times Square
11/14 Sayreville, NJ Starland Ballroom
11/16 Philadelphia, PA Trocadero
11/17 Hampton Beach, NH Hampton Beach Casino Ballroom
11/18 Providence, RI Lupo's Heartbreak Hotel
11/20 Norfolk, VA Norva
11/21 Charlotte, NC Tremont Music Hall
11/23 North Myrtle Beach, SC House of Blues
11/24 Atlanta, GA Roxy
11/25 Orlando, FL Hard Rock Live
11/27 Houston, TX Verizon Wireless Theater
11/28 San Antonio, TX Sunset Station
11/29 Dallas, TX House of Blues
12/1 Denver, CO Ogden Theatre
12/3 Phoenix, AZ Marquee Theatre
12/4 Los Angeles, CA Orpheum Theatre
12/6 Highland, CA San Manuel Casino
12/7 Santa Ana, CA Galaxy Concert Theatre
12/8 Ventura, CA Majestic Ventura Theatre
12/10 San Diego, CA House of Blues
12/11 Las Vegas, NV House of Blues