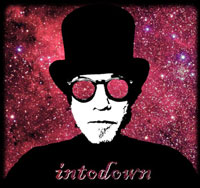 Michael Clark leads the psychedelic decent into the rabbit hole with a variety of drummers, bass players and multi instrumentalists. Brave New World is a skillfully executed instrumental rock album that reverberates below the radar of mainstream pop with Clark making exquisite us of power chords, riffs, and improvisation.
Clark has studied the blueprints of early hillbilly rock, black blues, the late-'60's Clapton-Green-Page mob, and past and present garage bands. He relies exclusively on the use of a Gibson guitar and Hi-Watt amp, which provides sonic consistency as the band effortlessly, trips from an epic musical muse to an extended wild-ass jam.
The arrangements on the album range from 5 to 20 minutes in length, and although one is getting a great musical value, and one heck of a magical adventure, the songs may be too long for today's attention deficit disordered consumer.
As Clark and his band of subterranean lurkers speak in musical tongues about the past, art and existentialism they may very well be the future of rock'n'roll.
By S.D. Peer