Attack of the Monster Line-Up
By Ginger Hebert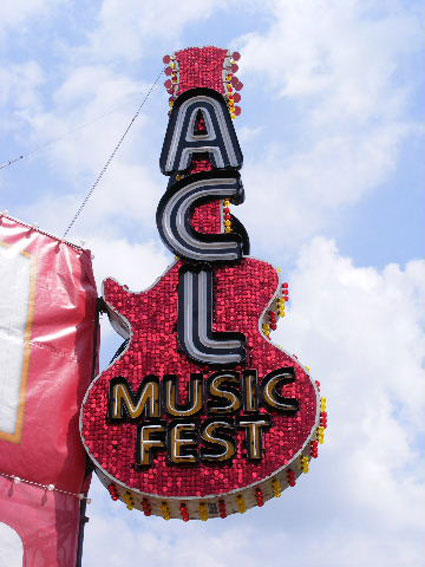 It seems after all the musical hype it generates; Austin really confirms itself to be all about the tunes. Each year Austin plays host to several huge music festivals in which swarms of people journey to central Texas, like zombies in search of flesh, for the music mayhem, good food, cold brews and summer sun. Nowhere but Texas will you be greeted with a more gracious host. Austin City Limits is a three day festival held at the beautiful Zilker Park. Bob Dylan, Muse, Regina Spektor, The Arcade Fire, Wilco and Björk are just a few of the acts that entertained this year. After thousands of people spent over $145 a piece for their three day passes, nothing less than the best is expected.
I was running late on day one, sweating out of every pore of my body, but managed to embrace it with a positive outlook and a void of live music that needed to be filled. Blonde Redhead was first on my list. In a previous issue of Skope, I discussed our love affair and my misfortune of never experiencing their full set. Our reunion was everything I expected. Singer, Kazu Makino possesses the poise of a queen and erratic movement of a lunatic, with incredible legs to boot. Directly after their set we wadded like penguins through the sea of sweaty, beer-polluted humans to a close-by stage where LCD Soundsystem were just starting. It might have been my dehydration talking, but the only thing that stood out about this band was guitar/percussionist Al Doyle, who happens to also be a member of Hot Chip, my favorite. Bjork, the Icelandic princess closed the show, dressed in a flashy, sack-looking garment with neon pink and green face paint. Bjork's vocals were identical to her recordings, so flawless it's almost inhuman. Her energy is extremely passionate, bopping and soaring around like a 5 year old that just got into a big box of pop-rocks. Halfway into the set, I noticed an instrument I'd never seen before. In fact, there are only two in the world. It's called a Reactable, a collaborative electronic music instrument with a tabletop tangible multi-touch interface. Simultaneous performers share control over the instrument by moving and rotating physical objects on a luminous table surface. It was one of the most fascinating things I have ever experienced.
The line-up on day two was pretty much a bust considering the headliner, The White Stripes, pulled out at the last minute due to acute anxiety. They were replaced with Muse, joined by Clap Your Hands Say Yeah, and The Cold War Kids. Compared to previous years, the line-up suffered in terms of high-quality entertainment, but the few bands that were good, were deliciously excellent. The heat is always an issue at Texas events. Fortunately this year, the event planners took warmth into consideration. There were free water stations and a lot more shaded areas for the 65,000 blistering fans.
The Final day put up a pretty big fight for title of best day at ACL 2007. Regina Spector's gratitude was unbelievable; she couldn't stop smiling and kept commenting on how beautiful Austin people were. Her performance was really hushed, and unless you were front and center, you couldn't hear a word. Texas sunsets are marvelous, and this year, My Morning Jacket supplied the soundtrack for the nightfall. Their stage was set up tikii style, with live plants and exotic women holding pineapples. Their front-man was wearing a long blonde wig, and supplied some of the most amazing male vocals I had heard all weekend. Their bass player was all decked out with sun-block, goggles, a snorkel and arm floaties. MMJ is quite new to me; I had a bit of a struggle in choosing them over, Wilco, a long-lasting love of mine who was playing at the same time on a different stage. I stand by my choice; Wilco could not have topped this show. Afterward, the rest of the ACL crowd moseyed and stumbled on over for the fest Headliner, the legendary Bob Dylan. As the cool marijuana-scented breeze rolled in, he opened his set with "Rainy Day Women No. 12 & 35," how appropriate. Dylan's voice was a bit on the haggard side, and his lyrics were at times, incomprehensible. I'm sure he's looking older as well; as he requested no cameras. There were no spotlights, only stage lights, which made Bob's white hat look as if it were floating. It was an honor to hear those comforting tunes that I heard since the womb, but his performance was a bit tired. As the third night came to an unfortunate but well deserved end, walking shoulder to shoulder out of the park, I found myself already planning my fantasy line-up for next year's event. I hope Apollo heard my prayer for Radiohead.
svgallery=ACL2007