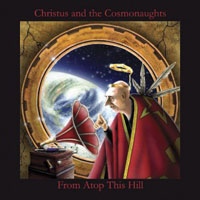 This album evokes the vibe of Pink Floyd but without the pleasant harmonies and vibrant complexities. There is a layered sound built on vintage analog synths. The music is atmospheric and can take you on some journeys of the mind, but be warned, this is not an easy listen. It possesses a depth that requires you to sit and listen. Like early Floyd, mind altering drugs may enhance the experience (not recommended but seems fitting).
Scot Solida writes all lyrics and co-writes music with Har. Scot plays so many different keyboard synths that are too many to list. Har plays guitars and basses.
Synths dominate over the guitar work and overwhelms the composition. The musicianship is solid and most songs are long which helps to develop the mood. This is not a pop disc, but it is an experimental, jam band meets Pink Floyd which devolves into a barrage of synth sounds. It's an interesting effort but you need to be in the mood for this type of music.
By Peter L.