Hanging out with Marshall Davis From Farewell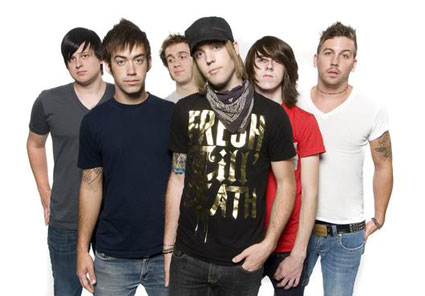 This right here is one of the coolest bands Stoli has ever interviewed. Farewell is a band off Epitaph Records. They have a new album, 'Isn't This Supposed To Be Fun?,' in stores now and have been touring for years. Check out what their lead singer, Marshall Davis has on his mind!
Skope: How long would you say that it took to produce your new album, "Isn't This Supposed To Be Fun?"
Farewell: Well, the album as a whole was recorded over the course of 2 summers. The first summer was spent demoing and working on preproduction. From those sessions, we had about 9 songs that we shopped to labels. Then we went back to record 8 more while we were picking a label. "Isn't This Supposed To Be Fun!?" is basically just 13 of our favorite songs from the past couple of years.
Skope: At what point did you realize that you could make a career in music and not take on a 9-5?
Farewell: Wait, we don't have to work a 9-5!? That's news to us! We all keep jobs when we aren't on tour. I have a merch design business that keeps me busy, and the others work in food service. Signing to Epitaph and getting our record out has definitely opened a whole world of opportunities for us, but we still have to work other jobs. Hopefully we'll be able to just play music within the next couple of years.
Skope: What song on the new album would you say best represents what Farewell is all about?
Farewell: I think either "First One On The Blog" or "Eighty-Eights" are the best representation of our band. Both of those songs are about our struggle in NC and how music is our way out. Our home is very important to us, but we have always had the itch to get out and see the world. Hopefully we'll sell some CDs and make some new friends along the way.
Skope: How many years has the band playing together before the industry began to embrace you?
Farewell: We had been playing shows and touring for about 2 years before we started getting strong attention from labels. We held off with many of the smaller labels because we were actually doing alright on our own. We had pressed our own EP and booked all our own shows, so we really had no need for a lateral move.
Skope: What is one of your favorite parts of touring?
Farewell: The best part of touring is getting to meet the people that like our band around the US. (and hopefully worldwide at some point) It's super important to us to keep a strong relationship with our fan-base, cause they are who supports us. We try to get to venues early enough to throw a frisbee around with the kids or just hang out and talk about music. It's funny…I think we are more excited about meeting the fans then they are about meeting us. haha
Skope: How has life changed the most since being signed to Epitaph?
Farewell: The biggest change for us has been touring so much. We have been on the road for 4 months, and it's amazing. This is what we've been working for. It's difficult to not see family and friends for months on end, but they all support us and are thrilled that we're living our dream. Signing to the label has also helped to spread our name around. It's cool to watch our band grow and see how new people respond to our music.
Skope: Would you say that Epitaph gives your band alot of creative freedom?
Farewell: We have 100% of the creative control. That is one of the main reasons we signed to Epitaph in the first place. We has talked to a bunch of major labels that just wanted to change us. They wanted to tell us how to dress, and what to write about, and all sorts of things. Brett signed us cause he loved our band and wanted to hear more music from us. He also insisted that I do our album art, cause he loved my drawings. Epitaph exists to support bands that he likes and wants to see grow and progress. Thats why it immediately felt like home there.
Skope: Would you say that growing up in Greensboro, NC helped to create the Farewell sound?
Farewell: I'm not sure how the "Farewell sound" came to be. Some of us grew up listening to punk and alternative music, while others have roots in country and classical music. I joined the band originally as just the keyboard player, and I brought the Get up Kids and Anniversary influence. Kevin, Buddy, and Jeff all came from pop-punk bands around NC, so i guess thats where we get that side of things. I think the only way that Greensboro helped to shape our sound is that we wanted to do the exact OPPOSITE of the hardcore/metal thing that was going on here.
Skope: How much of your real life experiences is expressed in your songwriting?
Farwell: All of our songs are based on our real experiences. Sometimes I broaden the themes so that others can relate, but i think the detail is crucial in making a song memorable. This record is a statement to many people that have crossed our path along the way; friends AND foes.
Skope: My favorite Farewell song is "Stay Pretty." What is that track about?
Farewell: "Stay Pretty" is a song about a girl I love who has dragged me through hell. It's basically just me calling her out on all the horrible things she had done to me, and then me demanding change to save our relationship. I love the tone of the song. I think the jokes are subtle, but sharp enough to sting.
Skope: What can readers look forward to from Farewell over the next 6 months?
Farewell: We'll be on tour for the next 15 years, so come out and say hello. I'll draw you a picture and give lots of hugs. Also, be sure to pick up the CD so you can sing along with us. Thats the best part.