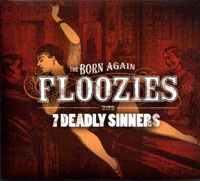 Upon first listen to 7 Deadly Sinners by The Born Again Floozies, you might think you have returned to the early 90s ska era, except these guys rock a tuba instead of trumpets and utilize tap dancers for added percussion. While this idea is great, it's not only been done, but defeated. Tilly and the Wall was the first to release this tap dance idea. Is it necessary to have more than one band with a tap dancer percussion section?
The tunes are upbeat and awfully daring, with unpleasant male vocals joined by less- than-average back-up vocals. The first eight tracks sound as if No Doubt and Reel Big Fish decided to collaborate, heavily drugged. Tracks ten through twelve, however, are much better. They sound like a completely different genre. These tracks are more folky, and the vocals miraculously change into magic.
In a way, this is two albums in one; the difference between tracks is night and day. The Floozies really take advantage of uncommon instruments. Aside from the tap shoes, there are finger cymbals, wood blocks, and…a suitcase. Vocalist Joey Welch is an excellent songwriter. "In my mouth, my suffering I tried to escape, but religion said no, keep on suffering. That's the way you know you're saved" is a sample of the lyrical content found on this album. Buy this album just for the last four tracks. The rest of the record is dispensable.
By  Ginger Hebert