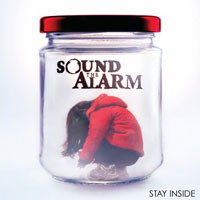 Punk rock died when Johnny Thunders bit the dust in 1991. Green Day attempted to revive the fuck-all spirit of the former New York Doll three years later with Dookie; that release presaged the second demise of the scene as every acne-wrecked teenage boy who struggled with an instrument in a high school imitated newly crowned icon Billie Joe Armstrong, the obnoxious, perennial loser they saw in themselves during heavy MTV rotation.
Sound The Alarm is no exception to the unfortunate image-conscious and profit-driven ground rules laid out by Green Day and all the punk-pop eunuchs that followed–the whole lot, the complete antithesis to Thunders' street-savvy, I-did-it-my-way-with-guitar-in-hock posturing.
And not unlike the over-the-top obnoxiousness of "Bubble Boy" from Seinfeld, Sound The Alarm should remain in a hermetically sealed container (see the red hoodie-wearing, all-American reject on the cover) to spare the world from their repetitious and thoroughly unconvincing emo-punk-pop rave-ups.
Stay Inside, the major label debut from this barely-legal Eastern Pennsylvania quintet (produced by radio-friendly, hotshot producer Howard Benson), displays none of the riff heavy classic rock of Aerosmith and Led Zeppelin, acts name-checked in the perfunctory press blabber. Instead, we get a recycled treadmill of half-assed, post-break-up lyrics from front man Cody Jancovic and monotonous, breakneck melodies swiped from the playbooks of contemporaries Nine Days, My Chemical Romance and Diffuser. Sound The Alarm is definitely not geared toward balding, weekend Harley riders or lip-pierced goth boys, but strictly to modern radio-hungry jailbait, and all future sales from their prospective ring tones venture. 'Nuff said.
By Ron Bally