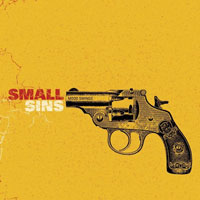 I forgive you, Beck. No seriously, I forgive you for your talent. I forgive you for your business savvy. I even forgive you for being a Scientologist. But I swear to God, it's getting harder and harder to ignore the plague of mediocre crybabies with keyboards and drum machines that you've unleashed upon us. Honestly, I'd rather have the locusts and give up my first born that hear another Moby wannabe try and get panties wet with a well-timed cowbell sample.
This brings us to the new full length album Mood Swings by the 'band' Small Sins, aka Thomas D'Arcy who proudly crows on about writing and recording most of the music and vocals on this album. Except for a few infectious and truly hand-clap worthy moments, I'd rather crow about taking the world's largest dump before I'd claim responsibility for this tiny one.
The music is repetitive, which isn't necessarily a bad thing, but in this case the monotony isn't broken nearly enough and when it is, the samples are generally played out. Vocally, the song "We Will Break Our Own Hearts" is worthy of a spin if you want to fool your friends into thinking Brandon Flowers truly lost his mind. I need not get into the lyrics unless you like your music as you like your Seinfeldian humor; purely observational. The highlights include the Beatles-esque anthems "On the Run" and "Bullet" as well as the fuzzy bass/synth infused "Airport". Man, am I a sucker for fuzz bass.
By  "Filthy" Rich Savoie