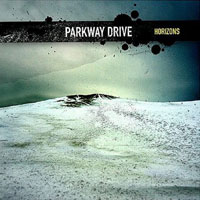 One of the most labor-intensive parts of being in a band is the grueling, rarely democratic, and often fight inducing process of choosing a great band name. After all, a band without a name that screams "Hey, we're a band!" isn't a band at all really.
And hence my confusion when I got the new Adam Dutkiewicz (Killswitch Engage) produced disc Horizons from the down-under metal outfit "Parkway Drive". Sorry guys, but we all know that bands with street names are about as un-metal as bands named after one of the members, i.e. "The ___ ______ Band". Metal bands have names like "Murder by Death", "Napalm Death", or just plain "Death". Get with it, kids.
Anyway, it's a damn good thing I didn't let the name bias me from the music, after all, I'm too good for that. The first three tracks on Horizons read like an all-star audition reel of metal musicianship. Don't expect a whole lot of melodies until you get to "Carrion", where the enviably produced guitars and chest pounding, gorilla killing drums begin making a melodic bed for one of metals most talented voices to fuck his brains out on.
By "Filthy" Rich Savoie