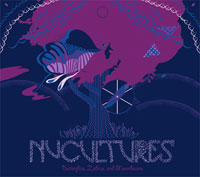 When a double CD release comes across my desk from an unknown band, I'm as enthusiastic about listening to it as I am about opening my credit card bill after Christmas. But Philly newcomers Nu Cultures have left me pleasantly surprised with this ambitious release of masterfully produced downtempo.
Their blend of music is Radiohead-sounding at times–think Amnesiac–with acoustic instrumentation amidst sampled loops in the background and lyrics that ponder. It's Morcheeba-sounding at other moments; think brassy, soulful, cool. The collective rotates vocal duties through the twenty songs which span the two discs. Ellie Perez's voice brings in the nuance of seductive lounge singer while Timmy Motzer–the man responsible for the seasoned guitar playing, arrangement and production of the album–gently ebbs the listener momentarily away to a different backdrop.
Nu Cultures also rotate a sparing array of exotic-sounding instruments–trumpet, nylon-stringed guitar, and tabla drums–executed in a manner that's a far cry from the beginner's introduction to world music. Though each of the collaborators brings in his/her own groove to the mix, Butterflies… doesn't sound like a mismatched hodgepodge. This variety of vocal styles is not only refreshing, but creates a stronger, more complex album. Highlights on the album include the instrumental, "Babylon is Crying" which sinks the listener deep into the noir-like intrigue of an Angelo Badalamenti score, and the melancholy rhetoric of "Think I'm Losing it." It's a disc not to be overlooked; pick this one up and watch the time go by fast.
By  Claudia Ward-de León