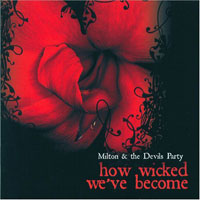 Milton and the Devils Party's latest album, How Wicked We've Become has just left the record player, and has left an uninterested and totally distracted feeling with its listeners. Every song has the same really dreary, monotone vocal by singer/bass player Daniel Robinson. The song structure is decent in terms of instrumentation, however. Mark Graybill has a sort of surf guitar sound and Bob Falgie adds an upbeat indie drum sound that is constant on this record. Their sound is a bit unique, and I stress a bit, only because I can't really compare them to much I've heard.
The lyrics seem juvenile for an older group of men. Track five, "Too Old to Die," seems to be the beginning of a good streak, but it's a red herring. The lyrics are more entertaining and they add simple keyboard elements for depth, but the interest ends there. The piano continues to the next track, "My Head Is Bowed." This tune has pretty strong verses, building up to a complete drop off of a chorus.
The guys even refer to William Shatner in "Muse of Mundanity." Robinson sings, "if you were Shatner you could choose between a goddess or a muse, and you could take her down and make love, sweet love and write poetry." Really now? I have to admit that parts of this album are okay, but the majority of what I have just heard will be easily forgotten.
By Ginger Hebert