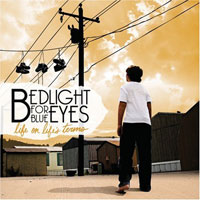 Former grandiose pomp-rock nimrods Bedlight for Blue Eyes have kicked out a burdensome former singer, gone through several other line-up changes since the uneven and equally oppressive 2005 debut The Dawn, and re-emerged bouncier than a Super Ball. The follow-up, Life on Life's Terms, is a totally revamped pop-oriented endeavor with a cache of radio-responsive ammunition aimed toward an obvious hit-single target audience.
Fronted by the soaring, soulful pipes of new vocalist Daniel Rinaldi (who took over for the dismissed Christian Guerrero), and bolstered by the skillfully-crafted hooks of lead guitarist Derek Weber, the new-and-improved Bedlight for Blue Eyes have fashioned an album of striking FM-oriented pop songs implicitly synonymous with their 70s arena-rock heroes Boston and Foreigner, and modern day counterparts Cartel and Fall Out Boy.
While a rejuvenated Bedlight for Blue Eyes fail to steer away from wimpy adolescent break-up songs indistinguishable from the ever-multiplying competition, the clean and polished dual production from Kenneth Mount and Zack Odom (Death Cab for Cutie, Cartel) adds a surprisingly refreshing and impressive mix of 70s rock and 90s emo-pop that is generously interspersed throughout the album's eleven straightforward and mostly energetic tracks.
What distinguishes them from the SoundScan-driven pack of anonymous pop-rock lemmings is their renewed versatility. By slowing down the pace for fleeting moments of self-reflection and sincerity, and embracing a gritty Guns'N'Roses-styled acoustic-rock ballad formula on album centerpiece "Walk With Me," and "Michael,"a tear-jerking ode to a prematurely departed sibling, the soul-searching and reinvented spangle-rock hombres have gone full circle to their rightful pop sensibilities.
By Ron Bally