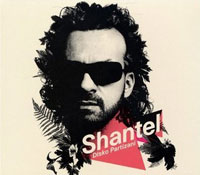 Shantel has evolved from DJ Shantel, primarily an electronica purveyor, to a music creator who also incorporates Romanian ethnic elements into his grooves. And some of the instruments included on Disko Partizani are quite exotic, indeed. These old world accents include oud, lauto, tzouras, diatonic accordion, and helicon. More familiar instruments, such as trumpets and flugelhorns, also color many of these tunes — especially the title track. And for the most part, it sounds much more like a gypsy wedding than your typical metropolitan dance club.
Although this music is expertly played, it is oftentimes hard to take Shantel seriously as a vocalist. That's because he sings the way Sacha Baron Cohen's Borat character speaks. When he vocalizes the chorus to "Disko Partizani", for example, you just want to offer Shantel a hearty Borat-esque high five. And it doesn't help that Shantel's lyrics of the simplistic 'get down, get funky' variety. All of the complicated musicianship invested in these tracks seems wasted the moment Shantel opens his mouth to sing. "Dubstar Bugarskji" comes off far better, however, as it also features Miss Platnum on vocals.
Disko Partizani is popular in our family van CD, but mainly for all the laughs.
Review By: Dan MacIntosh