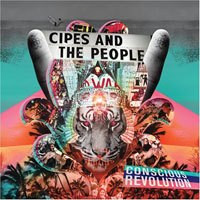 "We can free the world", sings Greg Cipes in "Free Me", the first single from The Conscious Revolution Has Begun. The debut album from Cipes and the People is a powerful mix of reggae, hip-hop and rock. The album may not be pioneering any new music frontiers; however there is no shortage of love, passion or creativity in this collection of songs.
Actor, voiceover artist, and professional surfer, Cipes is the quintessial renaissance man who believes he can unite cultures, religions and races through music, entertainment and the arts. Cipes has already attracted true believers with over 200K fan hits at his MySpace site.
Cipes had no intention of recording music until he was joined on guitar at a beach bonfire by Greg Whitman, who produced The Conscious Revolution. Whitman saw the unique and raw talent in Cipes, and together they have created a musical template for a peaceful and charitable revolution.
If anyone can improve the state of the world with song and spirit it is Cipes and the People. This is a lush and beautiful sounding record filled with hope and heart.
By  S.D. Peer