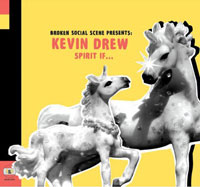 Broken Social Scene may be presenting Kevin Drew, but this is not a BSS album. Like many BSS compositions, each song is quietly tripped into, and then builds to a symphony of horns, flutes and other orchestral instruments. But there's something different about Spirit If…
The difference between could possibly be due to the host of guest musicians from Dinosaur Jr., Pavement, Metric, The American Analog Set and Do Make Say Think. A neo-hippie communal flavor carries over from these bands into the album. Still, it's safe to say that none of these musicians have ever contributed to such an effort before.
The difference between Drew and the BSS is this–Drew is a philosopher. His lyrics visit classic themes of friendship, love, sex, hate and death, but scrambled up, each theme a cause and effect of another. In the same way, his melodies birth new melodies and swirl over top of each other. Drew likes dissonance as much as he likes harmony. His interest in creating a thick fabric of sound overshadows the root of each song. There are lush moments, when the vocal melody pulls back and the band rocks out. Instead of creating a tangle of intelligible noise, it's easy to fall into the lush swells and feel dreamy about the day ahead. Spirit If… makes you want to rethink your life. Whether you do or not, that's up to you.
By Anney E. J. Ryan