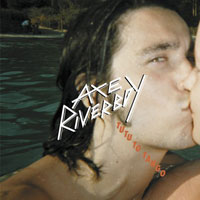 Singer-songwriter, multi-instrumentalist and Tahiti 80 front man Xavier Boyer, now know as, Axe Riverboy, has created a collection of smart lyrics and winsome melodies on his new album, "Tutu To Tango". The arrangements are concise, the embellishments are well-placed and the production extremely well-done.
Axe confesses that he "could be somebody else" in the tune Follow Me, while the sly lyric in the song Carry On asserts that "we didn't climb all the way to the top to hit rock bottom", and makes reference to the "fast food" sector of the music industry. This is fresh song writing indeed.
Tahiti 80 found their most rabid fans in Japan, however this solo release and forthcoming world tour should provide "Axe" the opportunity to reach new listeners of rock, pop and soul music.
By S.D. Peer