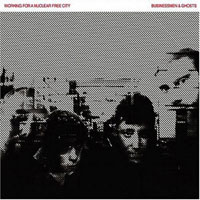 While their name carries certain assumptions the boys of Working For a Nuclear Free City maintain they are not "a bunch of tree hugging hippies" but merely liked the visions of "secret bunkers hidden just underground " after seeing the slogan on a street sign. Strangely enough, the name makes perfect sense upon listening to the Manchester, England quartet's US debut Businessmen & Ghosts.
A sensibility of beauty in chaos, of hope in the face of extinction creeps ever so subtly throughout the dual disc, 28-song record. WFANFC take sudden dives into conscious psychedelia then resurface to a melancholic calm before plunging into shoegaze inspired pop blissfulness.
The record is massively textured yet controlled and wonderfully composed. A fluid motion of pop, rock, and dance creations that transcends all borders and boundaries of imagination.
By Matthew Godbey