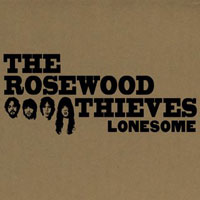 The Rosewood Thieves return to the country tinged, Brit-pop sound that first caught the world's attention last summer with its debut album From The Decker House. Although the New York-based quartet's reputable influences shine through unashamedly on the new EP Lonesome, The Thieves display a rare comfortability in its songwriting not usually seen in such a young band. Perhaps the record's bold experimentation, spontaneity, and isolated sound stems from the manner in which it was recorded.
Singer Erick Jordan and bandmates Mackenzie Vernacchio, Paul Jenkins and Mark Bordenet found themselves snowed in at his parents' house near the Pocono Mountains last winter. Unable to make the trip back to New York, Jordan decided to share with the band a song titled "Honey, Stay Awhile", prompting a most impromptu three-day recording session and a new EP.
Jordan echoes a young Bob Dylan with his raspy, contemplative voice while the band maneuvers respectfully around the soft yet potent vocal style. The end result is a soothing but still provocative roots rock album that presents itself as trendy but hides a charming antiquity that should not be overlooked.
By Matthew Godbey