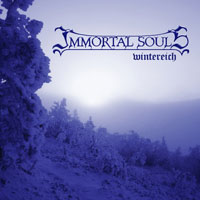 Finnish band Immortal Souls has embarked on an ambitious project. Though I am not a hardcore fan, I was impressed with the beauty (yes, you did read that right) of the lyrics and the artwork of Wintereich. This album is Immortal Souls' third full-length album and its second US release on Facedown Records.
Immortal Souls has taken the winter images for which they are known, and expanded them into a story-based work of five chapters. The album's accompanying booklet offers stark, snowy images and a complete text of the work, which is written and sung in English. The vocals on the album, however, don't need translation. Though they are gravelly and accented, they are clearly understood, which I found refreshing for a hardcore work.
Instrumentally, Wintereich is more complex than other hardcore albums I've sampled. Esa Sarkioja's lead guitar work and Pete Loisa's rhythm guitar offer an interesting interplay, backed by Juha Kronqvist's consistent drums. Wintereich is often more melodic than driving. Aki Sarkioja's bass, however, is often masked by the strength of the other instruments, but it is his vocal delivery that takes prominence as it should because it is the lyrics that run this machine. The cuts "Black Water" and "Wintereich" have Aki Sarkioja surprisingly slipping into pure rock vocals that are startling and pure.
The message of this metal lyric fantasy, however, is obscure. I'm not sure whether it's about doom and death or about choice and redemption. On a Christian hardcore label, I expected something a bit more direct, not an allegory. Still, it is wintermetal opera worthy of a listen.  
By Janie Franz