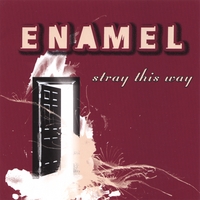 Hailing from Springfield, the capital of Illinois, Midwestern power-rock trio Enamel has self-released a dramatic sophomore album. Stray This Way serves up more of the trademark alternating patterns of bone-crunching intensity and wistful balladry, juxtaposed against commanding melodies, soaring harmonies, solid songwriting and tight musicianship.
The flawlessly self-produced Stray This Way wears its diverse influences (Chevelle, Foo Fighters, Incubus) proudly on its working-class environs without resorting to the lame posturing and fashion-conscious nose-thumbing of their major-label contemporaries.
Conspicuously clever tracks include the precise, heavy riffing "Narcissyphus" and the interesting (though uncharacteristic) electro-acoustic fall-out of "Won't Grow Back." Both tracks showcase manipulative notes and affecting phrasing from guitarist/singer Kevin Wasmer, and reveal the band's mounting diversity and willingness to explore the endless boundaries of fusing proto-metal head-banging and infectious emo-ripped choruses. Imagine Helmet colliding head on with NOFX at the gates to A Perfect Circle; there's no doubting Enamel's aptitude for simultaneously executing severe aggression and pop-ish hooks.
Bassist Zack Grey takes charge on the stimulating "Settling" with a a plump and rubbery low end hook that enables Wasmer's exploding chorus and stun-guitar riffs to strike equally with lethal intentions that scream mosh pit heaven.
Overall, the sincere vocal angst and instrumental fury seem real, not conforming to the formula of a thousand other non-descript modern-rock bands clamoring for the evasive airplay pie. Like Sam the Butcher from Brady Bunch fame, Enamel delivers the meat, and more.
By Ron Bally