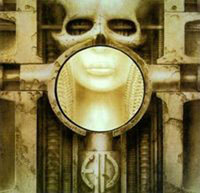 The fourth studio album from English progressive rockers Emerson, Lake & Palmer (ELP) is by far one of their most ambitious, if not successful, albums to date. The H.R. Giger artwork should be your first clue that this particular album has more of a science fiction theme than previous works. Peter Sinfield, the lyricist for early incarnations of King Crimson, contributed the poetic and sometimes absurd lyrics found on the album.
Brain Salad Surgery is also the most symphonic work from the band, incorporating more electronic elements than in previous albums. Emerson's Hammond organ and moog synthesizer stand out as the dominate sounds on this record, which adds to the spacey motif of the album.
The first number, "Jerusalem", is classic ELP synth and rock set to the words of a William Blake hymn. ELP follows that up with the instrumental "Toccata", a bizarre re-working of composer Albert Ginastera's "Tocatta Concertata (Presto). The track that gains the most notoriety however, is "Karn Evil 9: 1st Impression-Part 2", which sounds a little like a circus ringleader selling his schtick to a church full of Judgment day voyeurs. But if all the witty lyricism isn't for you, the remaster includes an instrumental of the entire "Karn Evil 9" suite, and an alternate mix of "Jerusalem".
By Charley Lee