An Interview with Jacob Sproul of Rose Hill Drive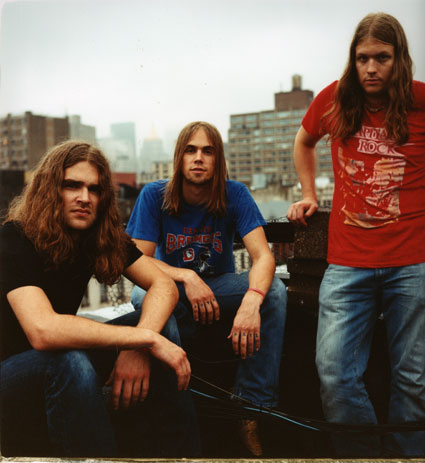 By Martin Halo
They are young, humble, and unspeakably impressive as the acting conduits of groaning bass-driven distortion fused with psychedelically charged rhythmic zeal. If Jack Bruce's Cream and Hendrix's Band of Gypsys caught each other's eye hanging around the sexually charged atmosphere within the darkest of indigenous nightclub lust, their glorious child of rock decadence would be Rose Hill Drive.
Releasing the debut self-titled LP on Megaforce Records in August of 2006 Rose Hill Drive has been riding the tidal wave of cataclysmic dream fulfillment culminating with supporting dates and an onstage performance with Who henchman Pete Townsend in Chicago during the summer of 2006. In addition the band has also earned coveted booking at Bonnaroo, Austin City Limits, and the Van's Warped Tour.
Consisting of Jacob Sproul (vox/bass), Daniel Sproul (guitar), and Nathan Barnes (drums) the ensemble was founded in 2001, hailing from Boulder, Colorado. Their rise to the world stage came at a price and it was the brothers Sproul who got stuck with the emotional bill. The story of eventual rock glory goes back father than a recording session and a tour. For Rose Hill Drive it tested the strength of perseverance.
"Music is a one way ticket into the other realm," says the Jacob Sproul from his home tucked away in the rocky mountain air of Colorado. "Language only has so many words and music is a place where words cannot describe. When we were trying to get this band together it seemed to be just impossible. We had a bass player that quit real early on so I had to learn how to play the bass and for a time I really wasn't that good. We were catching flack from our elders and a lot of criticism from our peers but making music was something that I really wanted to pursue. There was so much passion involved," he explains. "We were still waiting tables but the dream was so strong that we were willing to be barely living. My intentions were honesty. My brother and I wanted to do something that we really loved as opposed to joining a generic scene."
"When we were in High School it was all about the Red Hot Chili Peppers, Stone Temple Pilots, Soundgarden, and Led Zeppelin. I think we were just drawn to the relation of bands on the heavier side," says Sproul.
"There was a small generic punk scene in Boulder, which everyone has, but for us specifically there were a lot of players who were part of the jam scene trying to expand themselves in folk and experimentation."
"The whole thing was such a monumental decision, because nothing was guaranteed but we were willing to do whatever we had to in order to make it work."
So with a hustle and a dream the band made the necessary arrangements to record their debut LP and enter the hunt for distribution representation. But what transpired, through all the excitement of putting the wheels in motion, was a reality which failed to produce a product that met tonal expectations.
"We made a record in with Brendan O'Brien who was the Stone Temple Pilots engineer/producer. We were really freaked out because he had a lot to do with records that we loved, and we still do. We were interested to see what would happen. We were still kids at the time engulfed in the major label hunt. The plan was to pursue that route and sell the record. Well, it didn't exactly happen that way. We wound up having a few potential songs but that whole record ended up being too much on the pop side for what we were trying to do."
"We ended up canning the record and felt burned by the whole situation. While we were there we developed a good relationship with Brendan's assistant Nick [last name] and after writing a few new songs we ended up showing them to him. He told us to come back down to the same studio and we will just make a record with no expectations. The mentality was to do something fun and easy."
The result from the second recording session was Rose Hill Drive's pressed LP packed with a jaw dropping rhythmic elegance.
"I honestly think the record turned out to be more groove," explains Sproul. "I wrote the lyrics and I felt on the first album it was a growing representation of what I feel I could do creatively; as opposed to what we are starting to write now. I feel like it was a growing time. The lyrical content was focused on a little bit but I really wasn't prepared for what it takes to pen a great lyrical album. The rhythm definitely took over from us playing together for so long. We were trying to make a big rock record, and in retrospect I don't think we did. It ended up being more of an honest record."
"We are not rock stars or anything yet," Sproul says in which some may disagree. "We just feel blessed with every step that has happened for us. I can remember first starting out and hoping for the best. I couldn't even sing properly over my bass lines. The other guys in the group were already incredibly good and the weight of that was heavy."
"But I feel blessed that people chose to support us. I have so many friends in so many bands that are fucking great and they are just having such a hard time getting anything out. The whole concept of 'making it' is changing. The mode of making it has turned into something different from the shift of major label music and conglomerates. The Internet is turning into a serious musical outlet. Artists who are successful might end up not making a shit load of money. You see musicians put all of this effort and accomplish a huge amount of goals but they don't have a dime to show for it."
"But rock n' roll and the current climate isn't about the money, it is about personal growth. Being able to travel around and express myself through song in these crazy different times, I consider being an honor. It turns into such a cool journey. I mean honestly, I would much rather in this lifetime have lived it all, than to spend my time counting my dollars. You come into this world with noting and leave with nothing, so fuck it."
Well if living the dream is something Jake Sproul is concerned about, then I think he can rest easy very every night. In an unstable rollercoaster artistic workplace where every artist is searching for their own soothing contentment, Sproul describes how his musical endeavors are finally yielding results.
"Pete Townsend invited us to Chicago to play with him onstage and he actually played a couple of our tunes with us. It was bizarre at that point, like we were floating to the gig we were floating onstage. It was such a dream but there is nothing I can really say. We played 'Young Man Blues' with him and that song from Live at Leeds in one of the most important recordings for me because it completely represents the recklessness of rock n' roll. It shows how there is beauty and dignity in the reckless of an art form. Being able to play that with him and being able to be reckless together with him, let me tell you, I shit my fucking pants," as a bust of laughter concludes the conversation.