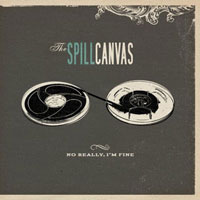 Far from their gritty folked out alternative approach of past efforts, The Spill Canvas presents their third album, No Really, I'm Fine. As their major label debut on Sire, the band has slipped into the cliché and left their fans high and dry as they set their sights on the big time. Never fear however, for although there is nothing spectacular presented in this formulaic teenage rocker anthem, The Spill Canvas is destined to pull in a new, less sophisticated crowd in good numbers. Although some fans may call this a natural progression, true music lovers will find the new album a sad plummet to the dismal depths of what can simple be defined as "everything else."
Certainly there are moments that shine through in tracks like "Hush, Hush." Sadly, these moments are fleeting and patience begins to wain. As if attempting to give homage to sellouts everywhere, The Spill Canvas seem to have taken two steps back, appealing to a naïve fringe emo/goth/pop punk group surely to bless the TRL countdown.
It's not that the world doesn't need another fluffed rock band, it's that the world does not need to lose another great musician to the temptations that hamper integrity. I think I will go listen to Bright Eyes, thanks.
By W. R. Eilers