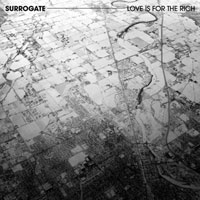 Surrogate's Love is for the Rich is a rainy day album. It's the perfect backdrop for walking around the city under an umbrella or lying in bed with a book.
This comfort stems from the source of the songs–all recorded in vocalist/multi-instrumentalist Chris Keene's bedroom. At times, the songs are plain and acoustic, reminiscent of Jack Johnson. However, Keene has a quirky approach to lyric writing and melody that sets him apart from other singer-songwriters. His lyrics smirk at age-old questions about life. He's a bit of a smart ass at times. But instead of contradicting the gentility of his sound, his sense of humor adds to it, like an inside joke between friends.
It's a refreshing, comforting album–at first. Towards the middle, Chris Keene's voice grows less pensive, less unassuming, and more grating and whiny. One wonders if the dough saved on a posh studio session could've been filtered into some effects pedal for Keene's voice.
By  Anney E. J. Ryan