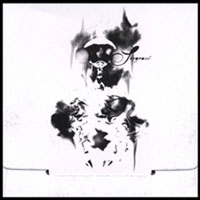 Warning: If alone and depressed tonight, you do not want to listen to this album. If, on the other hand, you're a sucker for straight ahead rock with an extremely moody powerhouse female vocalist/guitarist/pianist heading up the pack, then here's your Huckleberry.
Sergeant's Midnight to Midnight is the darkest thing you're going to hear in a long time, and it's executed with cunning bite and precision. Lead vocalist/guitarist/pianist Keli Reule's vocal range is a force to be reckoned with. And her voice bleeds tragedy. (Even if you can barely make out a damn thing she's saying half the time, you know whatever it is has nothing to do with sweetness and light.)
Midnight to Midnight is a stark yet enchanting experience. Drummer Pat Elliot, guitarist Gabe Ryan and bassist Forrest Allen have a great rapport going. And they go to bat for Reule every step of the way, creating a dark and murky landscape for her melancholic vocals to wander through, all the while successfully avoiding rock and pop cliches. These guys are not People Pleasers, people. Clearly, they give not a wicked shit what you think or what you wanna hear.
The second most memorable moment in this album comes in the middle of "Fight or Flight" when the entire band plunges suddenly into an explosion of chaos and musical nihilism. The most memorable, by my estimation, comes in "Meet Your Maker" whenever Reule repeats the crushing line no man ever wants to hear: 'All I need is everything you can't give me.' Midnight to Midnight, by the very talented San Francisco-based Sergeant defies any comfortable rock placement, and does so triumphantly. I suspect you'll be hearing from these folks. Their music is nightmarishly beautiful.
By Dave Downs