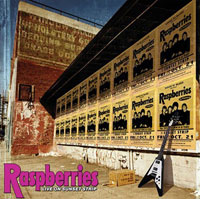 After 30 plus years, the Raspberries reunited to do a string of concerts. This disc features one of the shows at the House of Blues in So Cal. The group not only set standards that influenced countless working musicians, but captured the interest of music luminaries like Springsteen, Paul Stanley, Jon Bon Jovi, and yes, John Lennon.
They successfully incorporated the musical traits reminiscent of their idols, Beach Boy's style relationship lyrics, "Who" style driving guitar riffs, and last but not least, Beatle/Byrd/Hollies influenced harmonies. They threw off detractors by wandering into various other musical zones, including the country rock genre. Most importantly they were not only able to pull it off in the studio, they could repeat it live.
Raspberries fans old and new now have the opportunity to hear rock classics like Go All The Way, Tonight, Let's Pretend, I Wanna Be With You, Overnight Sensation and other album cuts live. The live shows are given an added dimension by supporting musicians/singers Billy Sullivan, Jennifer Lee, and Paul Sidoti.
There are two versions of the CD. One-version features 13 live songs including their Top 40 hits, and the Deluxe Version features the full concert of 21 songs on two discs including covers of "The Who's I Can't Explain", and "The Searcher's Needles and Pins", and a bonus DVD.
By RME