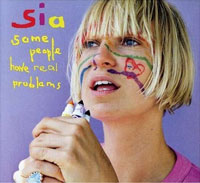 Sia's an Australian-born singer/songwriter with a fascinating vocal style, posessing at times a penchant for R&B riffing (the mind occasionally wanders to Janis Joplin). The young lady had a spot of luck recently when a song of hers popped up on an episode of Six Feet Under, a TV show which apparently focuses on the private lives of undertakers (I've never seen it because years ago I read an infamous book called The American Way of Death, telling me everything I'll ever want to know about that particular profession and those particular people.).
But Sia's spot of luck is our good fortune as well, because this new, exquisitely produced pop album, called some people have real problems, is a lovely piece of work. Our hero manages the curious feat of using her voice to convey tragedy in an oddly uplifting way. This musical phenomena is particularly evident on Track 4, "You Have Been Loved", a melancholy tale which leaves one feeling quite good about life and love in general. By far the coolest and quirkiest number here is Track 6, academia, co-written with Beck: 'I am a dash and you are a dot/When will you see that I am all that you've got?/ I'm greater than X and lesser than Y….' (Can't describe it, you just gotta hear it.) And if Track 12, Beautiful Calm Driving doesn't haunt you, then it's time to see the Doctor.
The thoughtful chord progressions, the excellent vocal harmony, the ample crescendos and the instrumental changes in style will keep one listening throughout. Overall though, it's the combination of Sia's alluring and accessible voice and her lyrical efforts at total honesty that prevent one from turning away. This girl's the Real Deal. You need to pay attention.
By Dave Downs
Listen to "Electric Bird"
[audio:Sia – Electric Bird.mp3]