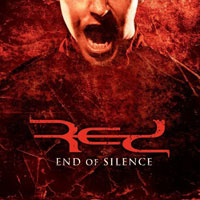 Red is a group that provides some of the drive exhibited by Linkin Park early on and in-your-face guitar reminiscent of the styling of Mark Tremonti (Creed, Alter Bridge). The use of strings keys, and melodic backdrops at the right places, adds a dimension to their hard driving sound that worked so well for Evanescence. The depth of the sometimes confrontational and relationship lyrics brings to mind, the mind (pardon the double whatever), of Blue October's Justin Furstenfeld.
The release of this Deluxe Edition package that contains a live DVD with some bonus footage marks the one-year anniversary of their debut album. The group is currently touring with Three Days Grace, Breaking Benjamin, and Seether.
Chances are you've heard the cuts "Breathe Into Me", and "Let Go", which have attained consistent airplay. The CD is easy to listen through, as the instrument and backdrops for each song are broken up, giving the songs independent sty lings. If you listen closely, you can hear some of the material fitting nicely into a few selective movie soundtracks.  
By RME