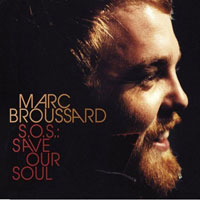 The Carencro Louisiana native's purpose was to come out with a disc and live tour that paid tribute to our musical soul heritage. By competently covering classics made popular by Stevie Wonder, Marvin Gaye and other selected soul luminaries, he's been able to accomplish his goal.
The re-working of the classics on this 12-song release is done by complimenting the originals, not destroying them or making them un-recognizable. Marc was smart in recognizing that this is a much-neglected market that still has a large closet audience, recently tapped by none other than ex-Doobie Michael McDonald.
Hall & Oates have more than done their share by sharing their originals and also covering classic soul tunes and performing with the original artists like the Temptations. When I got this, I glanced at the bio and put the CD in the car. When I threw it in the player, I began to smile. Want some soul in your soul? Here it is!
By RME