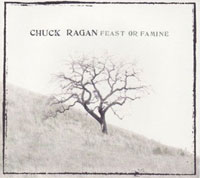 Chuck's debut record for Indie label, Hot Water Music, contains a refreshing batch of twelve original compositions that mix acoustic folk, rock and country. Feast and Famine is propelled forward by the opening track, "The Boat," which features an emotional lead vocal against a textured bed of acoustic and electric guitars. Chuck is a man of conviction with lots on his mind and this comes through loud and clear in the lyrics throughout the record. He describes his sound as "a red tailed hawk after a hearty meal at sunset, or a busted up air compressor running hard on it's last leg in dire need of having it's brushes cleaned!" That sounds about right to this reviewer.
The odd thing about Chuck's debut record is the last track, "Do What You Do." It starts out all well and good, but then segues into 9 minutes of wind and water ambience. I'm not sure what producer Tod Hutt had in mind with this particular arrangement, but it strikes me as a poor decision for a debut record.
Listening to Chuck's debut record conjured up shades of Bob Dylan, Bruce Springsteen, and Hank Williams. I haven't seen Chuck's live act, but my guess is his music sounds even better on the road. I get the image of Ragan as a road warrior. Aside for a few minor production-related quibbles, Feast or Famine is an impressive debut.
By Steve Waite