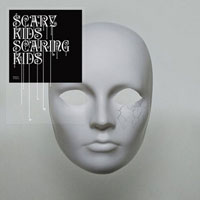 If ever there were a poster child record for the Abercrombie & Fitch/Hollister Co. chain of clothing stores, Scary Kids Scaring Kids is it. What teenager with ranging hormones could resist the incredible, raw energy that emanates from this talented and terrifically tight group out of Gilbert, Arizona? The music is as infectious as a common cold, and like a cold, you could not shake it off even it you wanted! Best not to fight it and let it run its course…
Let me be perfectly clear: This group is special. Their music has that unquantifiable, intangible, and mysterious "IT" factor that you are always looking for, but rarely find in musical groups. There are 16 tracks on the SKSK record, and amazingly, there is no filler! How refreshing to find a group of talented artists getting together to put their hearts on the line on each and every song.
SKSK reminds me of a cross between Metallica and Mute Math. It is clear the band has the potential to blaze their own musical path — especially if they are fortunate to team up with a world-class producer. It's not easy keeping 6 guys together for a long duration of time — especially if they are constantly on the road touring, as SKSK no doubt will be in the months ahead. Let's hope in the case of SKSK, the best does not become the enemy of the good.  
By Steve Waite