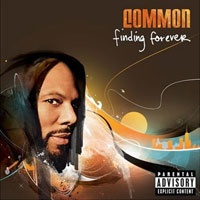 Common is a legend in hip hop. When you are in a cipher of hip hop heads and they start talking about conscious emcees Common always ends up on top. It seems as though the media is trying to divide hip-hop into two camps. You have the conscious emcees like Common, Talib, Mos Def, and Kanye. Then on the other side you have the street, drug dealing, thug life emcee. These emcees are like 50 Cent, Plies, Rick Ross, Young Jeezy, & TI, just to name a few.
I am at a point in hip hop where it does not really matter what camp the artists is on, I look at the quality of music. Common's  new album, Finding Forever, is just about as high quality as you are going to get nowadays. On this album Common drew from various production teams and that worked well for him. You have tracks that are influenced by a wide variety of producers to give the album a wide appeal.
The three singles thus far from this album are all hot. You have my favorite track on the album, "The People", which is just hip-hop at its essence. You have the DJ Premier produced track "The Game" and the Lily Allen cameo in "Driving Me Wild." Lily shows her ass on this track and really gets down in a major way.
The album does not revolve around the hits though and thanks to Common's fellow Chicagoan, Kanye West, this album is another classic. Heads need to check out the tracks "I Want You", "Breaking My Heart", and "So Far To Go." Music enthusiasts will enjoy this new gem by Common!
By  Stoli Razz