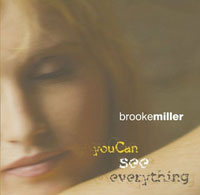 Brooke Miller is hyped as a young guitar virtuoso and up and coming roots-music songwriter. On her debut CD You Can See Everything there is some lovely guitar work, but it falls short of being very impressive.
The CD starts off nicely with "World On A Whim" a catchy, up-beat pop tune with a country twang, but there's not much to keep you hooked after that. Most of the songs that follow are much softer, mellower tracks that have complex stories for lyrics that don't always flow well together. "Country From The Dome Car" and "What Kind Of Move" are both more up beat, but still lose the listener with arduous lyrics. The one saving grace from the rest of the songs is "Trouble Where You Seek It" with its simpler lyrics and fast-paced swirling tone courtesy of the Hammond organ gives it a 70's psychedelic vibe, which clearly makes it stand out from the rest of the pack.
Miller doesn't seem to have much of a vocal range and that keeps most of the songs sounding the same whether she sings about love, politics, or a train ride.
It's a decent effort, but has a long way to go.
By  Kat Coffin