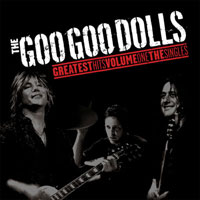 So I was going through the Skope mail and amongst all the great music we get, I was excited to see a new CD from the Goo Goo Dolls. Not only was this a new CD but it was their greatest hits. This CD is packed with 14 of the bands hottest hits.
The Goo Goo Dolls have been on the music scene for many years now. Any fan knows that they never disappoint whether in the studio or on the stage. If you love the Goo Goo Dolls you will love this CD. The CD starts out with the new smash hit "Let Love In."
The CD will be out in stores on November 13th. It is hard to describe a greatest hits album for the simple fact that there is nothing really new here. It is all music that I have heard and that I already know that I love. If you are a fan of this band, this CD is a must.
I have found that on many greatest hits albums they will only put a fraction of the hits so that the record company can milk the other hits for another greatest hits in a year or so. I am told that in 2008 there will be a Goo Goo Dolls Greatest Hits Vol. 2 which will have new recordings, remixes, rare songs that were never released and much more. I plan on reviewing that CD as well upon release.
I have just got to my favorite song on the CD, "Name." This song immediately brings me back to 1996. It really is nostalgic for me to listen to this CD, two big thumbs up!
By Stoli Razz