The Larkin Brigade, "Paddy Keys for Mayor"
I saw the Larkin Brigade live for the first time at the Abbey Lounge last month. It's been awhile since I've seen a crowd so into the music being played. People were (fake) Irish step dancing and clapping along to the music. They put on a really fun live show and the album is pretty damn good, too. All the guys — Paddy Keys on piano, Diesel Dennis on drums, Heavyset Joe on fiddle, and Paulie Thunder on bass — play their instruments very well. It's really the piano and the fiddle that stand out, though. The piano work on "Tabhair Dom Do Lamh" is beautiful and the fiddle work throughout the whole album blew me away. To top it all off, they're smart and funny. For example, "We're All Wicked Liquored Up At The Upscale Downtown Irish Pub," which is so whip-smart funny because we've all seen the type of pub they're singing about. The shout outs to all those coming in from Weston, Marblehead, etc is pretty damn funny, too. A quick disclaimer, though; I love Irish music, I love the fiddle and I love punk, which The Larkin Brigade mixes in with heavy doses, so this is right up my alley and I feel just fine about gushing about it.
Bread and Roses, "Deep River Day"
I've seen Bread and Roses a couple of times, the last being their CD release party in July, so I'm a little behind on the review. I figured better late than never, plus its in keeping with the folk-ish start I've already got going this month. Anyway….I like them better live than on CD. When they play, there's an energy and connection to the crowd that's really lacking on the disc. The playing is still stellar and songs are just as interesting and beautiful on the disc, but that vital, live energy doesn't translate. Really, though, see them live. They're awesome and they happen to be playing Thursday, October 18th at the Plough and Stars in Cambridge.
Lenny and the Piss Poor Boys, self-titled
I mentioned this band last month, but they deserve a full review. I love this CD. I listen to it constantly. Yes, they're country and most of the time, when people are asked what kind of music they like they say, "oh everything. Except country." Well, stop that and listen to the Lenny and the Piss Poor Boys CD. This is not the Alan Jackson or Tim McGraw country, this is the Lenny Lashley, lead singer of Darkbuster country music. There's pedal steel guitar and a song about getting drunk at the Cambridgeport Saloon, for christssake. Even if all of this doesn't get you interested, try out "Two Robbers." The pedal steel guitar on this track is amazing and song as a whole is gorgeous. There's no chance to see them live at the moment, but give the disc and listen and just try to pretend you hate it because its country.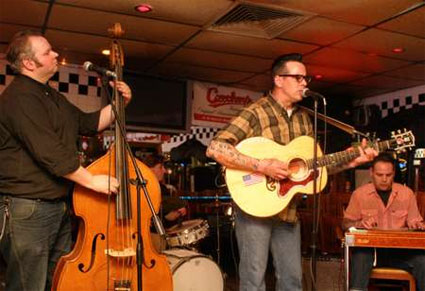 Random musical notes
I went up to my home state a couple of weeks ago and saw Hot Rod Fury play in Portsmouth. They play 60's surf music and Trish is super cool to watch on the drums. I don't know how often I'd be up for listening to a whole disc of it, but the live show was fun and it definitely got people up dancing.
By Stacy Coronis