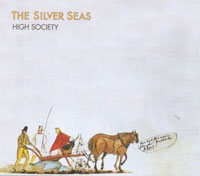 Having been compared to 70s icons James Taylor and Jackson Browne, opening track "Country Life" is tailor made for an oxymoron era of soft rock. Daniel Tashian, lead singer and principal songwriter for the Nashville-based quartet has vocals that play a tug of war between less affected rock vocalists of today and the influences mentioned.
Silver Seas also display impressive four part vocal harmonies, a la Brian Wilson, reaching a high note in the slightly experimental Taitville. Song titles like "Ms.November", "Imaginary Girl" and "She is Gone" would suggest inspiration from a never ending bank of dysfunctional relations but as Tashian confesses "I was wishing someone would hear one of my songs and pick it up for a sitcom theme".
With production companies paying good money for song rights and musicians being notoriously destitute I wouldn't blame Tashian's motives but do you think James Taylor was sitting around writing classic uplifting masterpieces like "You've Got A Friend" for the TV watching public? I know it's unfair to compare and raises many questions I can't answer so for now I will say this: As a soundtrack for some short-lived series with moderate success this album works.
By FOF