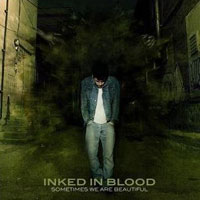 Inked In Blood may have converted a new follower to the evolving metal-core movement with their charming blend of shriek vocals harmonized with a gorgeous voice that has a welcome presence throughout the album. "Angel of Lost Hope" really allows Kelly James' voice to carry without letting the overall sound get too thin-skinned.
The beauty of this band is their ability to bounce between dark and graceful. Sometimes they sound like Jimmy Eat World and sometimes they sound like Lamb of God — and both work. This is the kind of band that could have the kind of cross-over appeal between metal and prog-rock that has been successful for bands like Mastadon.
There are addictive hooks established on fanatical melodies and pop-tinged choruses that are irresistible to any dedicated follower of music. With their ever-strengthening fan-base and endless room for growth in a variety of markets, this is a band we will undoubtedly hear more from in the future.
By Andre Fini