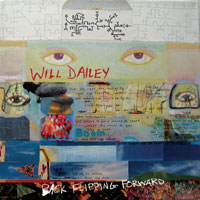 As I sit down to write this review, I am just full of excitement. It was in July of this year that I was notified with the press release that CBS Records has signed Will Dailey. Will Dailey is a Boston native who has been doing music for as long as we have been printing Skope Magazine. I recall when he was in a band called, Mappari. They were great and had something special but like everything it came to an end. Will decided to venture out on his own.
Thankfully the stars were aligned in Will's favor and Will Dailey's Back Flipping Forward will be the first release from the newly launched CBS Records, a label that combines traditional music marketing with direct integration of its artists' music into television programming on the CBS and CW networks.
If you have never heard Will's music, it's really a hit or miss. You will listen & love it or not so much. I have been a huge fan since Will's first solo album, GOODBYEREDBULLET. His voice, songwriting, and delivery is so unique that it's addictive.
I grabbed the CD and shoved it right into my player. Right off the bat I knew this album was classic Will Dailey when I heard, Boom Boom. It was refreshing to hear that sound that only Will has. As I listened to every track I realized that this album is a winner. I am just waiting to see what new drama on TV adopts, Rise, as their theme song. My favorite tracks on this album are, Rise, Undone, and Dear Grace.
If you can appreciate great music from a real musician that has paid his dues to be where he is, I urge you to give this album a spin. I also want to give Will a shout, " You have certainly come a long way from The All Asia in Cambridge, MA, congrats!"
By  Stoli Razz