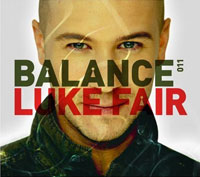 This is the 11th installment of the Balance series from EQ Recordings with prolific Toronto based producer/DJ Luke Fair at the helm. Fair has an uncanny talent with composition and mood as he constructs a beautiful landscape of sound.
He starts out with some progressive house tracks on the first disc and segues gently into deeper house mixes. On the second disc he pushes up the tempo with rhythmically swaying electro beats and loop samples that keep you moving. This is a vast collection with 33 tracks with almost 2 hours of ethereal and atmospheric sounds. The tracks merge seamlessly in effortless beat matching; an unbroken melody that acts to keep you entranced for hours. Hypnotic beats and loops soothe and massage your eardrums.
The tone gradually changes over the span of the album with the more dreamy tracks towards the start giving over to energetic dance beats towards the middle. On "Getaway" the up-tempo groove is infectious with its jazz horns, vocal loops, and seductive samples. The second disc immerses the listener into pure, visceral musical pleasure with its cascading electro heartbeats and digital waves that move over the body in a sinful aural bliss.
The album is varied but the change in tone is gradual with soft, trancelike beats building eventually to energetic dance floor romps. It is a perfect musical accompaniment to a night in the club or even a cross state drive in the rain. The fluidity of the smooth, easy loops choreograph the raindrops as they dance across your windshield.
By Shaun Flagg
[rating:4/5]