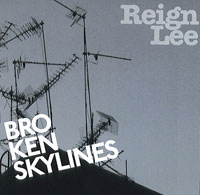 Hong Kong-based artist Reign Lee's latest CD, Broken Skylines, is a tour de force of catchy alternative rock, passionate lyrics and a pop sensibility that make the entire disc a pleasure from start to finish. Ms. Lee's insightful lyrics seem to be influenced by her well-traveled life. She was born in Canada and moved to Hong Kong as a child. Reign lived in America during her college years, spending time in New York, Illinois and Arizona. This blend of cultures, life experiences and diverse musical influences has converged to create an outstanding CD.
"Summer Faded," the opening track of the disc, is an upbeat alternative rocker showing Reign's flair for writing poignant lyrics and melodies. She's also an accomplished guitarist and it shows throughout the album. "Don't Close Your Eyes" is another winner that hasn't left my CD player in days.
The enclosed CD was recorded in Hong Kong, Washington, D.C. & New Jersey with several studio gurus, including GRAMMY ® Award winner John Seymour. If you like songs that have something to say, conveyed by vocals that are warm and inviting, look no further than Reign Lee.
By Joseph A. Italiano