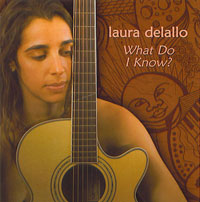 Laura DeLallo is an engaging singer/songwriter based in Connecticut who writes tunes that tell interesting, even funny at times, stories — backed by catchy acoustic guitar licks and a tight rhythm section.
DeLallo's disc, What Do I Know showcases her soulful voice while highlighting tasteful hints of blues and reggae influences. "When I Fall Again" is a smash that evokes memories of the Gin Blossoms at their hook-laden best. The lyrics for "More Than Just a Friend" will deeply resonate with anyone who has ever developed romantic feelings for someone that started out as a platonic friend.
Fans of Sheryl Crow and John Mayer — another Connecticut native, will enjoy DeLallo's latest effort. Laura is a lyric writing force to be reckoned with. Buy the CD. Listen to the CD. Read the lyrics. Try to put it down. I doubt you'll succeed.
By  Joseph A. Italiano