Hello people
Reporting in for a recap of a show of the legendary KRS One.
I figured out KRS was playing in Miami about a week before he was set to perform. I am so glad I found out about it. I hadn't seen him for at least 4 years. It was at the Middle East in Cambridge, Massachusetts last time I saw him. That is pretty much the only place you go and see hip-hop music in the Boston area. Effing lame. Rap shows have a bad reputation of ending in a knife fight or shoot out or other manner of urban blight inspired chaos. I think that this impression is bull since all the hip hop shows I've been to have been very chill; well maybe I am a bit skewed in my perception since most rap shows I've gone to are in the tolerant hamlet of Cambridge. The People's Republic of Cambridge is full of back pack hip-hoppers whose parents are mostly life long academics. The urban feeling in Cambridge is unique because it is a mix of hard edged street survival alongside eccentric art types and academics with a penchant for civil disobedience. It is a great environment for conscious hip-hop to thrive. I don't think there is any other place beside Oakland, CA that has a stronger underground hip-hop scene.
This sort of brings me into the focus of this entry. I was going to see KRS One again but in a new city. I have been living in South Florida for about 3 years and the local hip-hop scene has been sorely disappointing except for some notable exceptions namely Solilloquists of Sound . They are amazing; great live instrumentation with conscious lyrical flows and beautiful singing. A true gem. I am pretty sure they are from Orlando. So beside them there are some other groups definitely representing but overall I have see a real lack of good hip-hop music down here.
I was worried that I was going to have the same let down at the show. There were a bunch of local rappers opening for KRS including Garcia, Brimstone127 and Major League. I got there and Major League was already on stage. These guys could definitely hold it down with strong flows and wordplay and rugged beats. The DJ was very capable with his quick reflex on the cuts and his virtuoso scratching. The absolute standout in the group was rapper, beat boxer, break dancer, and singer Kamikaze. This dude was a renaissance man; he totally wrecked it the whole night. It brings to mind one of my favorite memories on The White Rapper show when John Brown was all "I am an entity". WTF! I had no idea what the hell he was talking about. But seeing this dude Kamikaze with his spits on the stage, flipping verses like its easy, breaking it down on the dance floor or participating in an epic beat box battle the kid shined bright. He was a whole package, an entity; I finally got it. We will see more from him. Major League in all were a solid rap group and that was beginning to change my mind about SoFlo hip-hop.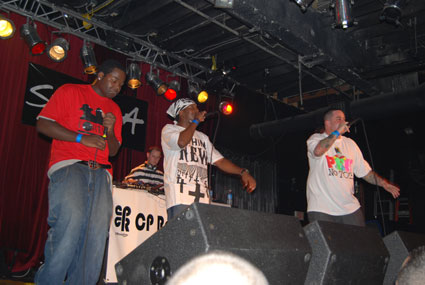 Major League
Then came the following acts and my hope dwindled. I had been looking forward to seeing Brimstone127 perform. I actually was into his stuff on Myspace but his live performance was really disappointing. It seemed he couldn't get a rhythm and his cadence was off. I see potential in this guy, I just think he needs to work on his live show. His female counterpart added a dose of femininity with her soulful vocals; a real nice touch I could see them developing to great effect.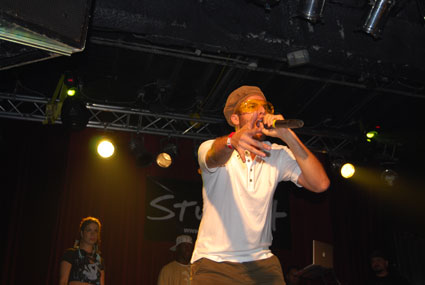 Brimstone127
KRS came on stage at about 1 AM and the crowd was excited to see the Blastmaster. KRS had a lot of energy and he engaged the crowd immediately. He fed off of the energy of the crowd and gave props to his audience. He was passionate that night performing some classics from his earlier work including the urban storytelling of "Love is Gonna Getcha". That song is a clear example of his skills as a storyteller. And that was back when he was with BDP in the early 90s. KRS has been around for a long time and he still continues to produce powerful hip-hop music. He killed it on stage as he usually does. At one moment he stared intensely at his microphone before he broke out into an onslaught of lyrical brilliance. KRS is a urban poet and the godfather of conscious hip-hop. His lyrics and his life serve as inspiration for his fans; he uplifts people with his positive message. That night he did just that. During one of his breaks between songs he took the time to thank his fans "Without you none of this would exist"! Now how many performers will say that kind of thing and really mean it. And I know he means it by that look in his face; the sincerity in his eyes. Knowledge Reigns Supreme Over Nearly Everyone (KRSONE). Keep on spitting the truth like venom!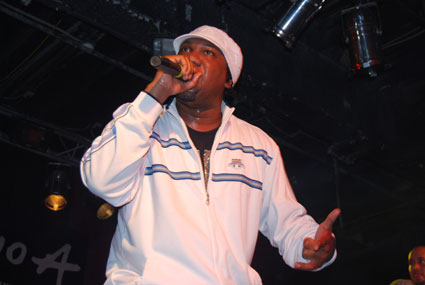 KRS One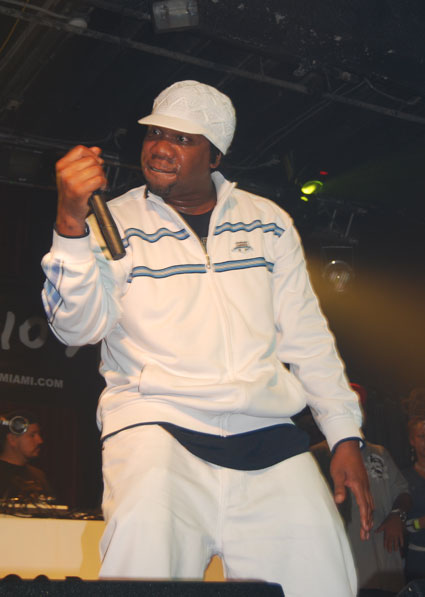 By Shaun Flagg
Photos: Joni Sansone