Hello
Last night was the Tim Fite and Ben Kweller show in Fort Lauderdale. It was some real good times. Unfortuntely we missed Fite's set. Total bummer! We got there at 10 PM and he had gone on at 9. Dammit I do hate when that happens; with me it seems to able all too often.
As a consolation I had the chance to meet Tim Fite in person. He is a real low-key guy and was immediately approachable and willing to talk. We chatted a bit about his tour, his side project The Water Island with Rio en Medio which you definitely should check out, and of course we talked about music.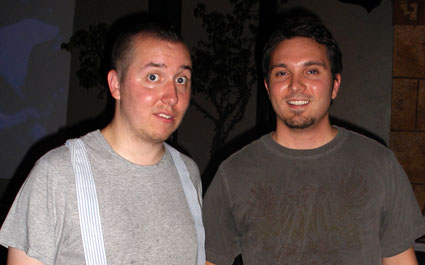 When Kweller went on around 10:30 the small Culture Room floor was bursting with excited fans; a crowd full of fresh, young faces. I had heard some rumors that his shows were fragile and weak displays. These rumors were being propogated by some of my good friends whose opinions on music I generally respect. A friend of mine who will remain anoymous said that Kweller was too soft. Bollocks! When Kweller came out on stage he came out strong and loud banishing all those nasty and illegimate slanders.
The energy was high on stage and the trio made of Kweller, his drummer, and his bassist absolutely rocked. This small band was able to create a big happy sound that put the whole crowd in a good mood. Highlights were songs "Run" and "Sundress". The show reached its raucous end with "Penny On The Train Track" with the comic addition of some old women dancing on stage and voicing the lyrics. The last thing I thought I was going to see was Ben Kweller's grandma dancing on stage. Well it is Florida and isn't that where all the grandmas go anyway.
Here are some photos of the Kweller performance